Corfu Aqualand / Water Parks
Corfu Aqualand is the one water park which is the closet located to Corfu Town, near the village of Agios Ioannis, and it can be easily reached by means of the intercity busses which service locals and tourists' needs to travel to various spots on the island, or, why not, by means of a rented car. Corfu Aqualand is unmatched as to its amenities in the entire Europe. First of all, the feature which turns the park into a genuine peak of this kind of establishments is the fact that it lies on a 75000 square meter surface, thus being the largest water park in Europe.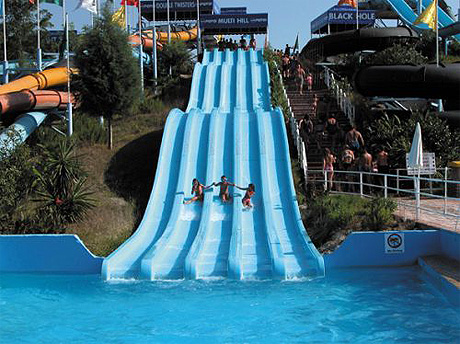 Its 600 parking lots are designed to ease visitors' access to the park and to relieve their worries as to where they will park their cars, enhancing their chances to have tons of fun from the first moment they set foot on Aqualand. Even if not essential, this aspect and the way it has been dealt with by the park operators indicates the attention paid to client related issues by the authorities managing the park, which is always something visitors should appreciate.
Additional facilities to enable perfect sunbathing days refer to changing rooms and lockers, snack bars and picnic areas, a mini-market and a restaurant, not to mention lounge chairs and umbrellas, the presence of which goes without saying. Yet, the fun in Corfu Aqualand is always the direct result of the many water slides rated according to the degree of difficulty and to the thrill one is likely to get if deciding to make use of them. The pools are also an inviting alternative for those who simply want to idle in the sun and, on top of all, the vigilant supervision of the trained lifeguards is meant to take over the possible worries parents or caretakers might have as to their children or the like. The bottom line is coming to Corfu and disregarding a visit to Aqualand is a loss one should avoid.
Name:

Aqualand Corfu

Address:

Agios Ioannis, Corfu

Telephone:

0030 2661058351

Website: